As many of you may know this is our second time reviewing Closet Core's (formerly Closet Case) adorable Jenny Overalls, and, we have to say, that the second impression is as good as the first! After seeing how wonderfully this pattern turned out with short overalls, we had to know what the full-length leg looked like!
Our lovely photographer, Bess, keeps the TCS crew looking flawless and fashionable, but we thought that it was time to get her out from behind the camera and into a hand-sewn garment.  As mentioned, Bonnie has made the Jenny Overalls before, for the lovely Mairin, out of our Robert Kaufman Reversible Railroad Stretch Denim. They turned out beautifully and Marin looked cute as a button. But Bess, fashion forward as she is, wanted to try out View A which features a complimentary wide-leg cropped pant, ultra high-rise bib (with utility pocket!), deep slash front pockets and adorable back patch pockets. These overalls are as functional as they are certified chic!
The Function of Fashion
As Bess modeled Bonnie's garment masterpiece, for the first time, the room began to vibrate with envy. She looked SO. DANG. GOOD! Made in a size 12, Bonnie's only fitting alteration was to take the hem up two inches. Bess gave an obligatory twirl, and all four women watching sucked in a collective breath as they tangibly wished that they had a pair just like them. Experiencing such a visceral rush of shared yearning has me pondering the root of our emotion. On the one hand, the desire seems uncomplicated. The Jenny Overalls are flattering, adorable, and even sexy – what's not to want?! And yet, I find that beneath my simple attraction to the fashion of this garment, lies a more complicated attraction to its functionality. In other words, these overalls have pockets. Lots and lots of practical, useful, pockets!
All Over These Overalls
The evolution of function in the context of fashion is an important part of history and culture that is often overlooked. Personally, I don't know a single woman who has not struggled with pocket size and functionality as it pertains to her purchased clothing. At the same time, I can't count the number of times I have complimented a woman on her dress or skirt only only to have her excitedly respond, "Thanks! It has pockets!"
Whether we consciously know it or not, the historical lack of useful pockets in women's fashion has shaped our cultural perspective. "An 1899 New York Times piece makes the somewhat tongue-in-cheek claim that civilization itself was founded on pockets…". The author states, "As we become more civilized, we need more pockets…[n]o pocketless people has ever been great since pockets were invented, and the female sex cannot rival us while it is pocketless." (qtd. in The Politics of Pockets, Summers, Sept. 19, 2016).
In short, if women get their hands on working pockets, we may become too powerful. 

   Leslie Knope said it best –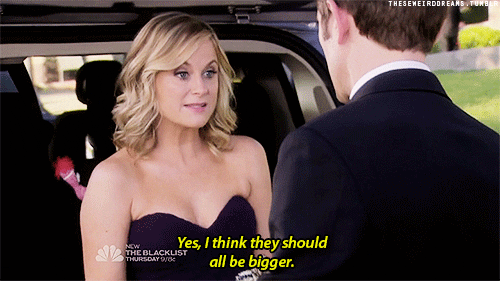 With every wave of feminism since the American Suffragette Movement, the overall has made a fashionable comeback; further proof that pockets and female liberation go hand in hand! And, as a business that prides itself on empowering women to take control of their lives, hobbies, and wardrobes, The Confident Stitch crew was thrilled to discover that our seemingly innocuous overalls have an amazing history behind them. No wonder we all want a pair of our own!
The Making Of
As previously mentioned, the Jenny pattern has several separate views. Views A and B are long and short overalls respectively, while Views C and D show shorts and pants minus the overall bib, but not the excellently sized pockets! For Bess's View A bibs, Bonnie made a slight adjustment to the zipper placement, moving it further back on the hip to better accommodate the addition of the large, front, slash pockets. The excellent results speak for themselves! The slash pockets lay smoothly and the zipper is barely visible.
Face the Fabrics
Choosing Robert Kaufman's 8oz. Denim in Washed Indigo added a nice classic vibe to this modern overall interpretation. It's lightweight, soft and washes very well! Additionally, because it's a 'washed indigo' the blue dye doesn't stain like other indigo denims are wont to do. However, we still recommend washing with vinegar and drying at you're preferred temperature before cutting into this fabric.
Aside from the denim – in order to give the garment a personal touch; something Bonnie looks to do in almost every piece she makes for us –  she used our funky and SO FUN Penpals Quilting Cotton in Gray to line the slash and utility pockets.

The perfect addition to a pair of empowering overalls!
Pocket Philosopher
No matter the history or political implications of the pocket, we can all agree that pockets should be bigger and that there should be more of them. And, I am of the opinion, that the most efficient way to forward this noble ideology, is to make and wear overalls as often as possible. As author Jeffrey Gitomer once said, "The deeper your belief, the deeper your pockets." Well put Jeffrey. The Women's Coalition for Deep and Functional Pockets salutes you! Happy Sewing you Confident **tches!