When difficult times arise, we seek comfort in different ways. Through food and friends. Through pets, familiar books, and nostalgic movies. Hot tea and warm blankets.
And, while all of these are comforting, while they all ease the tension and anxiety which has, of late, seemed more pervasive than usual, the comfort I have always relied on most heavily, is that which only cozy clothing can provide.
I constantly look forward to that blissful moment at the end of each day when I can, once again, don my pajamas. But, over the last few months, it's become more and more difficult to disrobe in the morning. The anticipation of once again wearing PJs is not enough to convince me that I should take them off in the first place, and quarantine did nothing to help this outlook.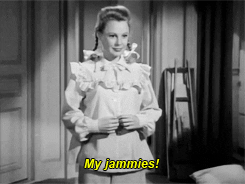 At the same time, living in one's pajamas can quickly switch from comforting to depressing. So the question became, how do I enjoy the daily comfort of pajamas without actually wearing pajamas?
The answer? Secret Pajamas.
I began favoring loose dresses, elastic waistbands, and sports bras certain that the best way to successfully cope was to do it armored in a loose, knit tee and black yoga pants masquerading as slacks.
It's the Most Comfortable Time of the Year
Now that September is here and fall just around the corner, this covert PJ operation has become even more achievable. Sweaters and scarves. Finger-less gloves. Fleece leggings! The comfiest of the comfy. And then Bonnie made for Kate the Sew Liberated Arenite Pants from our Raw Silk Noil in Ash, and, like Cruella DeVille (minus the puppy homicide & poor driving), my fashion pursuits became single minded.
So comfortable. So stylish! Warm, but not bulky. Chic but relaxed. The Arenite Pants seemed liked the pot of gold at the end of the comfy clothes rainbow. And I wasn't the only one who thought so! Everyone who witnessed Kate wearing these pants experienced a fashion revelation. Were gathering in groups acceptable, you can bet that Kate would be teaching a class on these fabulous pants right now!
High-waisted with deep pockets, a slouchy silhouette, an elastic waistband, and three different cuff options, these pants have the potential to complement a variety of body types and social situations. Kate opted for the elastic cuffs, but a simple hemmed or wide, knit cuff are also choices.
Bonnie had no trouble whipping up these size 14 pants, and, while I'll admit that Bonnie very rarely meets with a sewing obstacle that she can't overcome, in this pattern there were no obstacles to speak of. Four inches were added to the length, because, well, Kate, and the waist was taken-in two inches. Additionally, Bonnie took the pant legs in slightly at the bottom so that they would taper more cleanly to the elastic cuffs. Lastly, the bottom of the large pockets are finished with a French Seam, which makes for an oh-so-satisfying finish.
Practically Perfect in Every Way
The Raw Silk Noil in Ash was perfect for these pants. A notoriously warm fabric (that is available in a variety of colors!), this garment will hold Kate in good stead this autumn. What's more this fabric is really excellent to sew with. It has a lot of great texture, which makes actually sewing with it even easier. Plus, it shrinks very little and is super wash n' wear.
The comfy conversion of my closet is a delightfully perpetual process, and I'm looking forward to adding a few Arenite Pants to my secret pajama stash.
Happy sewing!