There's nothing quite like a good pair of high-waisted, cigarette pants.
A flattering design first made popular in the 1950's, it can be tricky to find a modern pattern with this silhouette that lives up to our sewing expectations. However, we're pleased to report, that the 4018 Renée Ponte Pants pattern from Jalie totally conveys the Marilyn-Monroe-effortless-yet-chic-daywear impression that one might hope for in a pair of form-fitting pants.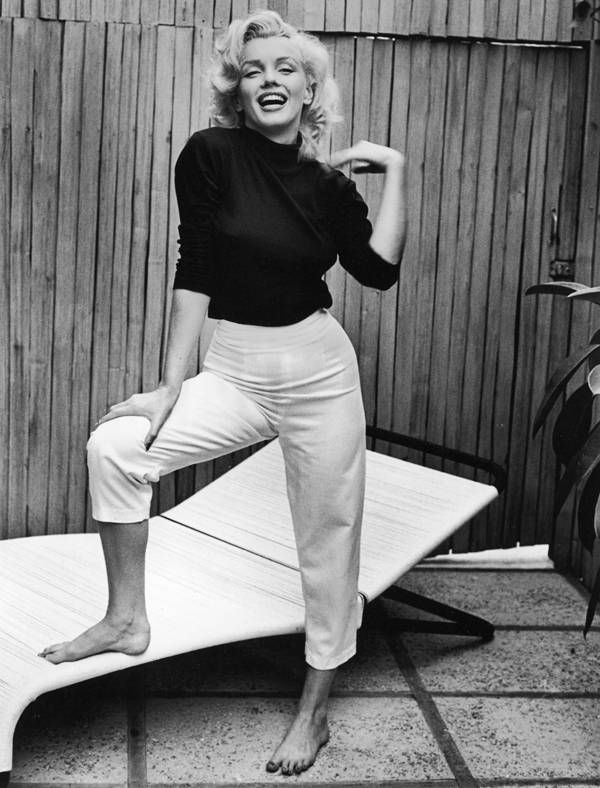 A few months ago, the wonderful and talented Allison decided to give these pants a try. One Wednesday evening she went home with the pattern and a few yards of the Knit Ponte in Wine & Rust, and on Thursday she walked in wearing the fabulous final product!
High-waisted and pull-on, with concealed elastic at the waist, flattering darts at the back, and an inset detailing at the hip – these pants truly were the whole package!
Kate, Rachael and I were simultaneously jealous and very impressed. How on earth had she managed to whip up such a cute garment in one night? "It's a very straightforward pattern." Allison assured us. "The instructions were very clear and easy enough for a beginner."
In fact, Alison mused that the instructions were almost deceptively easy. "I made it way more difficult than was necessary, over-thinking every step!" She began by cautiously basting each seam at 1/8″ rather than the allowed 3/8″.  But, in the end, she decided to stitch at the full seam allowance.
Additions and Alterations
With a 39″ hip, Allison comes in at a size 8 or 'U' on the Jalie size chart. Despite her natural waist measurement being smaller than the 30″ drafted for size 8, Allison didn't take the pants in at all and was glad of it! A straight size 8 turned out to be almost perfect. She did lament not altering the darts placement in the back, but resolved to shift them a half inch when next attempting the pattern.
The Renée's finished inseam measurement is 1″ shorter than Allison's actual measurement. So, naturally, she added 1″ to the total length. (A 1/2″ both above and below the knee as advised in the pattern instructions. However, she astutely noted, that the vertical stretch of her chosen knit had an impact on the final length. The pants should end at the ankle, but the 15% lengthwise stretch in conjunction with the extra inch, actually made them a titch too long!
Pleased with how quickly the pants had come together, Alison finished by serging her seams – clipping her basting at the crotch/inseam intersection beforehand to make the serging easier. It wasn't until leaving her house the next morning that she realized she'd forgotten to go back and stitch the inseam before wearing the pants!
"Fortunately", she laughingly told us later, "I was headed to work where there happened to be a sewing machine threaded with dark thread and a stretch needle!"
Still glowing from her first great success with the Renée pattern, Allison proceeded to make two more pairs of these fabulous pants – each cuter than the last! She had a marvelous time sewing with the Knit Ponte in Wine & Rust, and the Houndstooth Ponte (pictured below) is actually the same fabric with a different design. For the contrast detail at the hip, Allison simply used the 'wrong', black side of the ponte as contrast. Easy and fabulous!
Unfortunately, the fabric world is a fickle mistress. Getting our hands on more of this Houndstooth Ponte is proving challenging! However, to our great delight, Allison's third pair of Renée's were made using our Robert Kaufman Butter Suede Knit in Saddle, and, as you can see, the final product is equally chic.
Ponti di Roma holds a special place in my heart. Not only are the edges roll resistant which makes sewing with it a dream, but I always love how I look and feel when wearing it.  Allison certainly looks fantastic!
We also carry several colors of the uber-luxurious, easy-care Butter Suede Knit! An amazing fabric that won't shrink or fray like authentic suede, it's also washing machine friendly!
On that Thursday morning many months ago, while posing for the exhilarated members or her Ponte Pants fan-club, Allison thoughtfully said, "I rarely wear tight pants, but these have changed my mind. They fit and feel great, and now I have another Jalie pattern that I love!"
We couldn't agree more Allison! Thank you for inspiring us with your wonderful sewing and keen sense of fashion! We can't wait to see what you make next.